Obatics is a Business Management Software Solution designed for small to medium businesses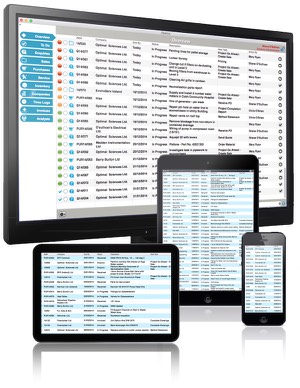 Powerful
Easy to Use
Customizable
Tab 1
Obatics integrates all features seamlessly, organizing important tasks into one overview screen and leaving you and your team to manage rather than micro-manage your company.
Tab 2
We found many of companies using other business software were inhibited by trying to re-train their team to use generic software, not exactly suited to their company's terminology to methodology.

Our design team worked meticulously with all areas to ensure Obatics fits with your company, rather than you trying to fit with it.
Tab 3
Every business is different. For example, your company might deal with "Projects" instead of "Sales Orders". For this reason, Obatics gives you the power to change label names to suit your business.
Obatics, meets most company's entire business needs but you may have some requirements which are unique and not available on any business management systems you have investigated.
We provide a customize solution allowing you to add or change the standard set of features to suit your company's unique requirements.
Cost Effective
Secure
Versatile
Tab 1
With a relatively low monthly costs, Obatics will change your business from the start in many ways, such as:
• Stronger Revenue Streams
• Operational Savings
• Greater Company Agility
• Higher Customer Satisfaction Levels
• Eradication of Data Entry Errors
• Critical Failure Avoidance
Tab 2
Your data is stored on the cloud using the latest in security. You have the option to backup your data on regular intervals and download, securely, to your local computer.
If you choose to store your data locally on your own server, you will have control on all security and backups including removing internet access from your internal network, making it impossible to compromise the security.
Tab 3
Normally, Obatics stores your data in the Cloud, but if your business requires an "In-house" solution or the internet isn't an option, you can also store your data locally on your own server.
The Overview is one of Obatics many unique features. When you log in, you are presented with a list of tasks that you or your team need to address. To Dos, Messages, Projects, Quotations, Purchases, etc. are all organized by action date. At a glance you can see what is the next action to take for each item on the list, who the action is assigned to and when it needs to be done by.
Workflow, Tasks and Schedules
View tasks assigned or created by you in one click. The Overview lists outstanding workflow tasks by priority or due date, so at a a glance you can see what what tasks are outstanding for your team or for yourself.
Tasks can be scheduled using expected lead-times, giving you forecast of future activity and bottlenecks.
Workflows, containing a number of specific tasks can be assigned to most order fulfilment modules. Any or all tasks can have a member of the team or department assigned.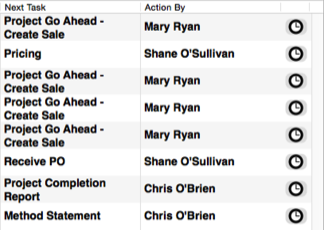 Customizable Tabs and Naming Convention
Most companies have their own names for processes. You might say Projects instead of Sales or you might not use Time Sheets at all. With Obatics you can name almost everything to suit your business and remove modules you're not currently planning to use, making it even easier for you and your team to navigate.
You can also hide tabs, pricing or costs from individuals or entire departments.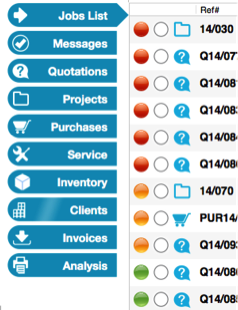 Enquires can be entered manually or from an enquiry initiated from your website. You can print or email Quotations, create a new Sales Order and Job Sheet from the Enquiry.
A Sales Order can be raised manually or created from an Enquiry. If you have the Stock Module activated, Obatics will indicate stock availability for stock items as they are entered. If the user has sufficient access, they will be able to create a Purchase Order directly from the Sales Order or raise a Purchase Requisition.
Purchase Orders can be created manually, raised from a Sales Order or created from Purchase Requisitions.
If the Stock Module is activated, Stock Items below the minimum level can be automatically added to a Purchase Order who's supplier is the recommend supplier for the item.
As orders are filed they can be delivered to the customer. Invoices can be created from the Sales Order or from the Delivery. Stock Item quantities will be adjust downwards or upwards from Sales and Purchases Deliveries.
All your Customer and Supplier details are managed in one place, with multiple contacts within each company. Analyse important details, including Leads, Sales, Enquiries & Work Orders, Jobs, Contact Dates and Trends.
Keep ahead of Enquires and Quotations with the inbuilt Pipeline. Sales pipeline is a great indicator of a company's health. It can literally show you the money (that you are going to make in the coming months). Manage your pipeline well and you'll stay well organized and feel more in control of your sales figures
With unique Asset Tracking capabilities, Obatics can identify your assets using barcode or RFID Technology in a fraction of the time traditional tracking methods and procedures are achieved.
As well as reporting on missing items, Obatics will report on assets which require checking, maintenance or replacement. It will even send instructions to the operator on their mobile device.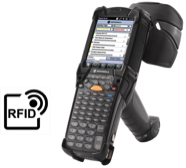 Manage your inventory level. If your business involves assembly, the Stock Control modules will automatically deplete your product's ingredients. As purchased stock levels drop below their minimum levels, Purchase Orders can be created automatically to reorder.
Inventory can be moved within multiple locations using the fully integrated barcode features. In fact you can move, deliver, receive and even check Inventory using the integrated Barcode function.
To Dos and Inter-office Messages can be created for any user on the system. All To Dos and Messages will remain on the assignees Overview list until they are complete.
Task Management, Time Analysis & Timesheets
As operators and users complete tasks, Obatics can record the time taken, building up a picture of the actual time taken to complete a job. Comparisons can be made against similar jobs or item quote to ensure jobs are remaining profitable.
If some of your team fill in weekly timesheets, Obatics can help you with that too. Your team call fill in their own timesheets from their laptop or smartphone, the hourly rates will be calculated and assigned to the relevant job automatically.
Analyse your business trends. Compare this year to last year, see who your top customers are, who contacts you the most, stock levels, tax, sales, purchases are just a few of the analysis reports available. You can print, email or export for further analysis in an external program such as Microsoft Excel.
Sales staff on the move can view and update Obatics live.
Management can monitor progress and trends as they travel and Operators can view their incomplete tasks in the work shop.
Integration & Compatability
All areas of Obatics are completely integrated and work seamlessly together.
Export and send your Customers, Invoices and Credit Notes to accounts for end of term accounts.
Your business may not need barcode capabilities now, but you have the comfort to know that when it does, Obatics has a range of possible options from RFID to Datamatrix and from wireless to Wi-Fi ready to plug-and-work.